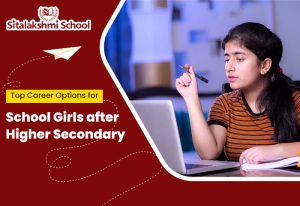 Completing higher secondary school often leads to another conundrum or dilemma for parents and their children in terms of what to study after the 12th. For girls and the traditional stigma or stereotypes that have always limited their choices, the noise can be particularly overwhelming. Yet, finding the appropriate career choice is crucial at this point in life. It will determine the girl's success later on and will require tons of resource investment in terms of time and resources. Therefore, it's key to explore all your options as a family and then settle on a solution that combines your daughter's passion, interest, and expertise while affording good financial potential. Here's a look at some of the top career options after 12th, particularly for girl children:  
BSC Information Technology 
Long gone are the days when STEM courses were just the preserve of boys. Today, India is witnessing a huge influx of female talent into the IT sector, with recent research showing a commendable female participation rate of over 30% and counting. 
IT is the way to go if your daughter has developed a particular interest in the following niches or areas: 
Computer science

Programming

Cyber security etc.  
While considering career options for higher secondary school girls, it's also wise to keep in mind the employability of that profession. The IT field is a particularly promising one, with a report by the Times of India indicating that our country needs to fill a talent deficit of over 30 million in this particular industry. On average, an IT career attracts a yearly remuneration in the region of ₹ 5,50,000. 
Does your daughter have an interest in the medical field? A B.Sc. Nursing would make for a good career choice as well.  A BSC nurse on average can take home a salary just shy ₹ 4 lakhs annually, with the potential to double their income as they climb up the ladder and gain experience. 
Beyond the huge financial potential, the demand for BSc nursing graduates has been experiencing a tremendous rise in recent years. And it's not just in India, the entire planet is grappling with a healthcare staff shortage crisis, with WHO estimating a dearth in the region of 10 million by 2030. 
Therefore, this means that there will be plenty of opportunities for girls who take this course to explore both domestically and on an international level as well, should they wish. Additionally, this course makes for a highly respectable and rewarding career, in addition to affording excellent job security and stability. 
Like many other parts of the world, India's digital scene is on an upward trajectory. Traditional marketing is now paving the way for digital marketing, which is fast becoming the order of the day and creating new career opportunities for girls after 12th. 
A BBA or MBA in digital marketing, which combines business elements as well, is particularly suitable for girls who are:
Self-motivated and hardworking

Creative and highly versatile

Tech-savvy and curious  
The digital marketing field is always in a state of flux and therefore requires constant learning and relearning hence it's especially suitable for the self-starter. Nonetheless, it makes for an excellent profession. There are many specific roles graduates can take on in the industry, but the average entry-level digital marketer is estimated to make about ₹ 3.5 Lakhs a year. 
A career in interior design isn't always the first thing that pops to mind for most parents. If anything, the idea was scoffed at a couple of years back. Today, however, an interior design job is nothing to laugh at, promising a healthy remuneration that totals ₹ 3.0 Lakhs a year for the average interior designer. 
The greatest appeal about this industry, beyond it being obviously lucrative, is that it is also quite enjoyable and speaks to innately creative girls. It is a trendy career option in modern-day India and now the pieces are just falling into place in the industry.
For example, more people today are on the hunt for aesthetic lifestyles and there's more awareness of interior décor presently compared to preceding years. Many designers work full-time for large firms, but there's also plenty of potential for freelancing and side income. 
B. Com in Accounting and Finance
The Bachelor of Commerce in Accounting and Finance makes for one of the most lucrative career options after 12th as well. If your daughter is good at math and is a critical thinker, this might just be the right career path for her. 
Within the accounting profession, your daughter could potentially fill many rewarding roles which are in high demand in India, namely: 
Staff Accountant

Internal Auditor

Financial Analyst 

Loan Officer and much more. 
Across the country, the industry requires about 10,000 chartered accountants annually, which is why this course has excellent employability. In terms of pay, the average accountant's salary in India grosses just over ₹2,28,000 annually. 
BA B.Ed. Integrated Course
Is teaching a good career for the future in India? Are teachers well-paid in India? The answer to both questions is a profound "yes." Teaching may be one of the oldest professions in the world, but it remains one of the most rewarding ones, both financially and in terms of the gratification of molding future generations.    
The average monthly salary for a high school teacher is around ₹22,000 per month, with primary teachers earning ₹7,000 less. Even fresh out of college, the inexperienced teacher stands to secure a starting salary of ₹3 Lakhs, going by the national average. 
If your daughter has a strong interest in passing on knowledge, then you should also add this to your list of carrier opportunities for girls after 12th. 
Help your child choose the right path
In past-century India, children had little say in their career choices. Parents would dictate the path ahead and daughters were obliged to heed their commands. Today, however, it's more beneficial for parents to guide children but still ultimately leave the decision up to them so that they are motivated to see it through. These courses we've discussed today should give your family or daughter an idea of what to study after higher secondary education, but there are many other options on the table as well. At the end of the day, it's important that you take into account your child's interests and strong suits in line with the profitable employment opportunities therein.