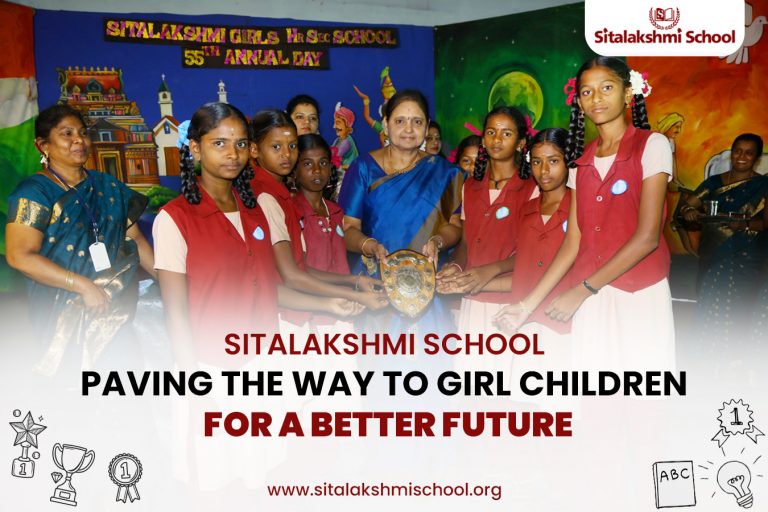 Education is without a doubt the single most powerful tool when it comes to empowering the girl children in India. As the top girls' school in Madurai, we take great pride in our work and are committed to giving female children the tools they need to thrive at school and beyond. Here's how our school helps girls take better charge of their future:
Extracurricular activities to build soft skills and nurture talent
It's a well-known fact of life that success is not just dependent on hard skills like Maths, Chemistry, Physics, and other academic subjects.e. It also has a great deal to do with other soft skills or life skills such as teamwork, creativity, and empathy, among others.  
To ensure the holistic development of our students, Sitalakshmi girls higher secondary school in Madurai goes above and beyond to provide a wide breadth of extracurricular programs that span:
Performance art and public speaking programs

Sports such as volleyball

Art and music 

Sewing and more
All in all, these programs also help to impart important life skills to complement the knowledge our girls get in the classroom. Moreover, with a key eye on talent discovery, we are also helping to nurture skills in art, music, and sports, which have also been a source of livelihood today for many women in India and the world at large. 
Our teachers mentor girls to break stereotypes
We've made huge strides forward as a country in terms of gender equality and women finding their place in our society. But for all our progress, we must admit that stereotypes still stand in the way, holding many girls back from reaching their full potential. 
In the understanding of the society we feel that Sitalakshmi Girls' school Madurai provides regular mentorship to our students. These include experienced role model teachers who've once been in the shoes of our learners, as well as high-profile speakers that we invite often. Overall, our mentorship helps girls overcome the limitations of their mindset. It encourages them not to be afraid of leadership, while also emphasizing the importance of staying true to our families and culture. 
Providing education as the key to life 
Hard skills are the core business of every learning institution at any level. To ensure students who attend our school get the very best, we have implemented the following: 
A thorough staff training  process withfocus on experience and expertise

Infrastructure upgrades. We are also the best girls school in Madurai on account of technology. Our school hosts ultra-modern computer and science labs to give our students a solid foundation in STEM subjects. We have separate state-of-the-art laboratories for Biology, Computer, Physics, and Chemistry 

Teacher training. Our school regularly retrains the teaching staff to ensure our students stay ahead of the curve by acquiring new world skills as they emerge            
With a good education, our school sets up girls for higher-paying jobs in STEM and other lucrative niches. Ultimately, this ensures a better financial future not just for girls but for their future families as well. 
A school library that equips girls with the best scholarly sources
Sitalakshmi school understands the importance of a regularly updated library for education. To that end, we have invested massively to create a safe space where our students can keep up with current affairs, research adequately for their educational needs, and generally nurture their passion for reading and learning. 
In an information-driven world where knowledge is power, we stock our library with a depth of scholarly sources that give girls access to books they need, ensuring underprivileged students don't miss out as well. It's not always serious work though. Our library also encompasses magazines and other subscriptions that can help students relax and unwind before getting back to their studies once more. 
Providing for disadvantaged girls to keep them in school 
The rate of dropouts of girls  in India is alarming, particularly at the high school level. Surveys indicate that as many as 57% of girls don't make it past their secondary school education. While several things are to blame, the chief among them is the lack of food and necessities like school attire. 
We do what we can to solve this part of the challenge for our students. The unique feature of our school is a mid-day meal program, which helps feed over 150 girls from difficult backgrounds. What's more, we also provide school uniforms for the needy as well, to ensure comfort and focus that will help see girls through education.
Conclusion 
The path to a brighter future starts by getting your child a good education. If you're searching for the best higher secondary school for girls in Madurai, we welcome you to Sitalakshmi school. Our holistic approach to girl child development ensures children are better placed to discover their self-worth, and gain the skills to make it in life and the corporate domain as well.