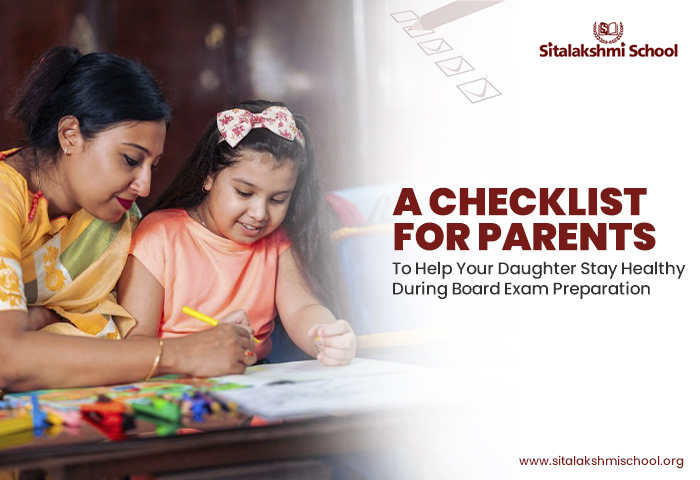 There's a lot at stake when for both young girls and their parents when it comes to board examinations. The future of your daughter could very much be on the line here, hence it's important to chip in where you can. On the other hand, it can be a testing time for learners. They grapple with lifestyle changes and the intricacies of being a teenager, as they try to prepare for exams that can seem intimidating at the surface level. However, board exams are nothing to fear for the well-prepared. Sitalakshmi Girls  School guides you on how to help your daughter with board exam preparation without running the risk of burning the candle at both ends.
1.Ensure your child gets adequate sleep
While it is good for students to go the extra mile, it is also commonplace for them to overdo it, particularly with board exams around the corner. There's the feeling of missing out when one is not studying, even if the learner is already fairly familiar with the subject. 
You should help her come up with a good sleeping schedule for students so that she gets enough sleep to keep her learning and memory sharp during this period. Several sources of parenting tips for teenage daughters generally place the ideal bedtime at around 9.00 pm and no later than an hour after. 
To ensure your child sleeps in time and gets enough rest, we also recommend the following: 
Discouraging electronic devices (TVs, phones, etc.) an hour leading up to bedtime. 

Ensuring dinner is served early about 2 to 3 hours before bedtime

Discouraging caffeinated drinks that affect sleep, from the mid-afternoon onward
Additionally, you want to encourage relaxing activities in the evening and observe consistency with a bedtime routine. 
2. Craft the perfect diet to keep her going
Does eating affect study? You'd be surprised by the many effects food has on our brains. Healthy eating for students can elevate retention, memory, and learning. 
Conversely, the wrong diet choices can affect your daughter's concentration and lead to a depletion of both focus and energy. In fact, studies suggest that foods with high levels of saturated fats can be disastrous for one's cognition and learning abilities. 
That begs the question, what is the best diet for students keen on passing a board examination? 
Here are our food recommendations: 
Fruits such as berries, citrus, and avocados

Nuts

Eggs

Fish

Beets

Vegetables at large
All these foods we've listed and many others are packed with important brain and energy-boosting nutrients.  
3.Study with your daughter when possible 
Studying with your daughter helps her know that she can count on you for support.  It demonstrates care and creates a safe space that can further bolster learning outcomes. 
If you aren't quite sure how you can chip in as a parent, be sure to ask her how you can lend a hand. Whenever possible, try to help her relate what she is learning with practical examples in the real world. Also, many learning materials typically have question sections toward the end of chapters. You can use these questions- and even past papers- to help your daughter carry out a self-assessment. When stuck, try providing hints to jog the mind before providing outright answers. 
More importantly, you also want to encourage your daughter to ask for help when she needs it. Of course, when in no doubt or short on expertise, it's prudent to consult with a teacher. 
4.Create the right study routine
A study routine or timetable is one of the most important tips for success with board exam preparation. You want to help your daughter come up with a study plan ahead of time. The earlier you can get this done the better so your child has enough time to study, which will make her more confident for the exams.
While we're not saying to zero in on specific questions, because we can't accurately predict what a board exam will test, some concepts are more likely to feature than most. Ensure your child spends her time well in line with what the exam will cover, as opposed to studying everything in its entirety.
Some more tips on helping your child come up with an appropriate study plan include: 
Think about your child's best learning style

Set study goals in line with her abilities 

Include rooms for breaks as well

Create study slots with 1 hour periods (may need to be longer for extensive subjects or concepts)
Preferably, list down all subjects together, and allocate time according to importance, length of study material, or how weak/strong your daughter is in that particular subject. You may want to get one of your daughter's teachers involved in this process for good measure. 
5.Keep track of daily exam requirements
In between studying and the pressures of the test, your daughter may forget important accessories and even dates. It's therefore wise to get a copy of the exam timetable beforehand so you can help your daughter to adequately stay on top of everything. 
Note down particular subjects across examination days. Consult with your daughter in terms of what she'll need for tests, including calculators, writing instruments and others then set reminders on your phone a day prior to each exam day so that you both don't forget. While you're at it, be sure to encourage them at every turn, and downplay the gravity of the situation so they don't get any examination anxiety. 
Speaking of which, if you notice your daughter is in a bad mood or something is off in the way she normally acts, she may be experiencing examination stress. It helps to talk to her about it or consult a counselor or a professional. 
Help ease the pressure
Board exams are a very important phase of learning. It's important that your daughter understands the magnitude of what's at stake, but you also want to avoid overwhelming her with much pressure. Do not add to her examination stress, instead create a friendly home study environment where she can be free to open up about areas of her learning that she may be struggling with. Additionally, ensure that she doesn't spend too much time cooked up in her books, but also relaxing and unwinding to beat any exam nerves. Build up her self-confidence and self-esteem and you're bound to notice excellent results.